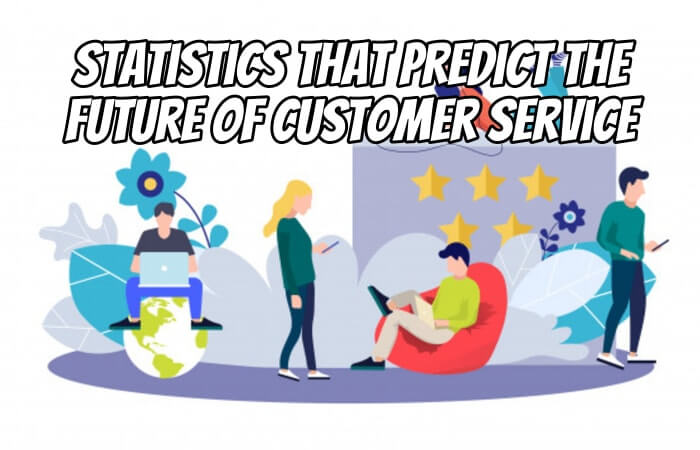 "The single most important thing to remember about any enterprise is that there are no results inside its walls. The result of a business is a satisfied customer."
Peter Drucker, better known as the father of management thinking, once gave us this beautiful gem of a quote.
We have come a long way since the first industrial revolution and are now bursting with new products and services in crowded markets regularly. Owing to the choice overload, a business is always at risk of losing its customers for some reason or the other.
As a majority of the organizations are becoming quite adept at managing their price points and product features, one of the factors that can drag a company down is customer experience.
More and more companies are finding systematic ways to invest resources for better customer service, and this will continue to happen.
Let's check out a few important customer experience statistics as they foreshadow the future of customer service. These statistics help you comprehend how you can increase revenue by delivering excellent customer service.
According to Forbes, companies have lost $75 billion in 2018 owing to poor customer service, and this number has risen by $13 billion since 2016. (Forbes)
The last thing any company would want is lost customers and the resultant loss in revenue. The root cause is the habit of underrating customer service in comparison to sales or advertising. Customers today are smarter than ever and they choose their own parameters to judge a product or service.
For consumers, customer experience will become more important than price or product by 2020. Â (Walker)
For the longest time, companies have strived to place their product prices in a competitive range or to give novel features and create USPs. But an often neglected area is how the organization makes the customer feel. If he does not feel good and he is turning to your competitor, chances are better pricing and features don't even matter to the customer.
89% of companies compete primarily on the basis of customer experience (Gartner)
Owing to a growing understanding of the significance of CX, more and more companies are looking at customer service as a proper investment that leads to increased profits. This is done in the form of analysis tools, third-party surveying agencies, etc.
34% of companies are implementing "customer journey mapping" into their customer service. (Huffpost)
Monitoring customer experience is no more about vague discussions in boardrooms. Employing complex methods and tools, customer journey maps help understand the journey of a customer from their first ever engagement with the company till the time they reach the point of loyalty. As time passes, more and more organizations adopt such techniques.
Acquiring a new customer is about 5 to 25 times more expensive than retaining an existing one (Harvard Business Review)
It naturally implies that companies will choose to invest in retaining existing customers rather than spending five times more in bringing in new customers.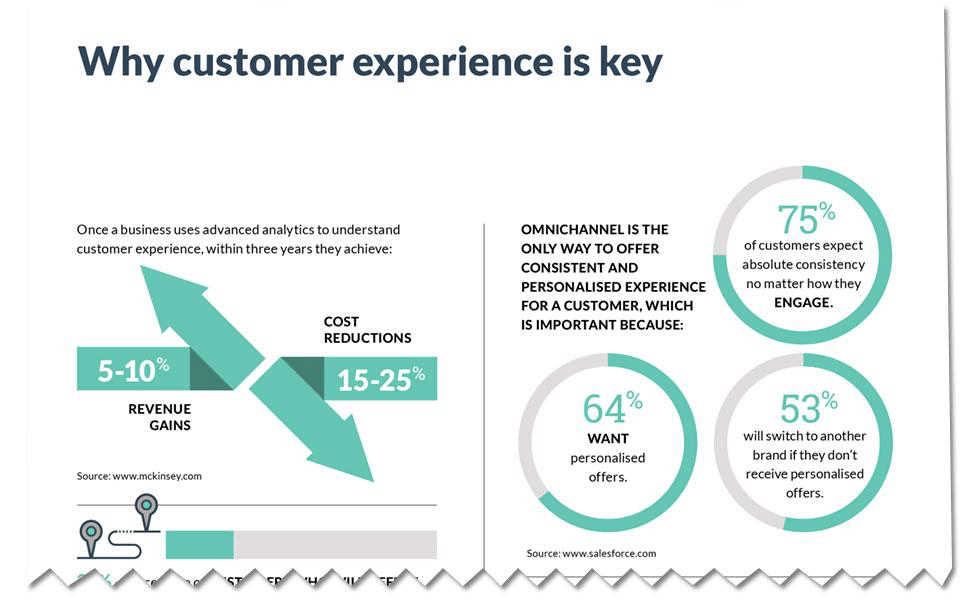 Globally, 54% of all consumers say they have higher customer service expectations than they did just one year ago. (Microsoft)
Although more and more companies are focusing their attention towards customer service and experience, over half of the customers still feel something lacking. Companies, therefore, have to work hard to achieve that bar by employing more and newer resources, dedicated analysts, tools, etc.
33% of customers abandoned a business relationship last year because of the lack of personalization. (Accenture)
As the data related to customer inclination and preferences is ever-increasing, businesses who provide personalized attention to customers are much more likely to retain brand loyalty. This can be done in a number of ways such as personalized chatbots or providing ready-made grocery shopping lists based on customer history, and so on. This is why a lot of customer service predictions include personalization tools as essential for the future.
One in three people (30%) say the most important aspect of customer service is speaking to a knowledgeable and friendly agent. (Microsoft)
This may be stating the obvious, but the quality of customer service representatives can be a deciding factor for whether customers remain loyal or not. Customers have developed greater self-esteem and will not consider switching to a rival for the sole reason of poor communication by company representatives. Yet the proper technical, as well as non-technical training of service executives, becomes a key factor for the future of customer service.
12% of Americans rate their number one frustration with customer service as the "lack of speed". (Statista)
This is a warning sign for companies whose service mechanism still has auto answered, difficult to navigate, and long lasting calls (among other things). We are living in a world of speed and no customer is willing to wait for hours to get their problem solved. Companies are increasingly moving towards a customer-support oriented future fuelled by artificial intelligence to solve the problem of speed.
One in two millennials has complained about a brand on social media. (Microsoft)
The world is heading more and more towards an internet-enabled paradigm, where social media is ruling the way people communicate with each other. Social media can act as a double-edged sword with its massive reach. It is a great tool to reach masses with negligible costs, but it is a nightmare when customers post negative reviews. Remembering this, tools like social media sentiment analysis and monitoring have become more and more crucial to companies. Following image shows some important numbers related to social media and customer experience.
If you wish to learn more on such statistics and relevant data related to customer service, read on 100+ Customer Service Statistics & Facts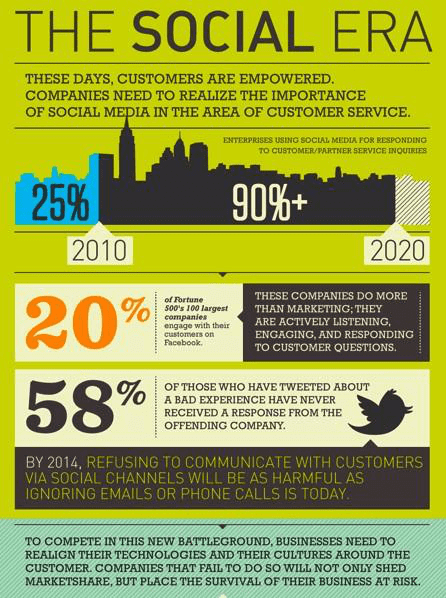 About the Author
Dwayne Charrington is a technical writer currently associated with ProProfs Help Desk. He possesses hands-on experience in writing for the customer service industry. Dwayne is insightful when it comes to industrial challenges, emerging customer service trends, and how businesses overcome related challenges. Dwayne likes drawing connections between different industries and entities while designing his blogs.