According to a survey, 68% of marketers say social media helped them generate more leads.
The figure highlights how effective generating leads from social media can be with the right strategies.
The big question becomes, what are the best tactics to generate leads from Facebook, Instagram, YouTube, and other platforms to support your social media marketing efforts?
That's what this guide is all about.
We'll cover these four lead generation techniques to optimize your social media marketing efforts, including your overall digital marketing strategies.
1. Host giveaways and contests
When done the right way, running social media contests can be powerful lead generation tactics.
After all, who doesn't want a chance to win a prize?
You can leverage social media contests to:
Spread the word about your giveaway, product, and brand. Run contests that encourage audience participation and, in turn, boost lead generation while promoting your business.For instance, you can host an Instagram giveaway with your newly launched product as the prize.

Also, include viral IG hashtags in your content to make your contest searchable and more visible to wider audiences.

Gain lead information instantly. Host giveaways that require participants to share basic information, such as their names and email addresses. Participants get a chance to win, and you can get instant lead information, making it a win-win for everyone.
Drive click-throughs to your landing page. Include a link in your Facebook and Instagram contests that ask participants to fill out your landing page lead forms.It can help drive traffic to your website while allowing you to capture lead information.
Plan and implement your social media contests seamlessly with Vista Social.
The platform lets you schedule your posts for automatic publishing, saving you from manual tasks.
You can also publish your social media posts immediately, add them to a queue, or post them in bulk on your set dates and times.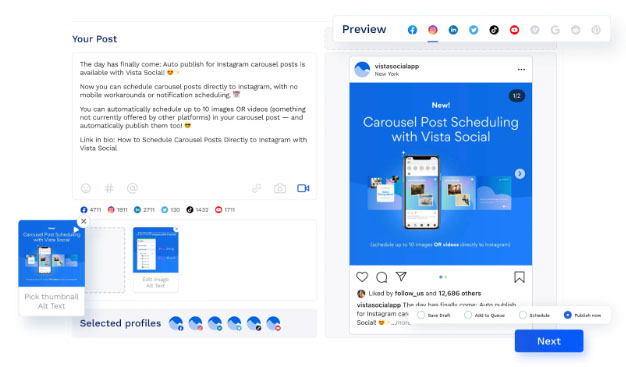 Image source: vistasocial.com.
Implement fun and engaging social media contests to capture your audience's attention and generate leads.
Follow foolproof content writing tips to nail your messaging and make your contests a huge success.
2. Provide incentives
"What's in for me?"
That's the question most prospects have before signing up for your newsletter and acting on your offers.
Potential customers want to know the value they can get for giving up their details to you.
Offer irresistible incentives to provide value and encourage your prospects to share their information with you.
Some incentives you can offer include the following.
Gated content. Provide gated content in exchange for getting lead information. For instance, ask for your prospects' email addresses to give them full access to your whitepapers or ebooks on project management and the top project workflow management software.
Discount coupons and codes. Offer discounts when prospects act on your offers, such as subscribing to your email newsletters.You can also offer a free first consultation to encourage signups, the way business coach Olga Sol (mastermind.queens) does in her Instagram post.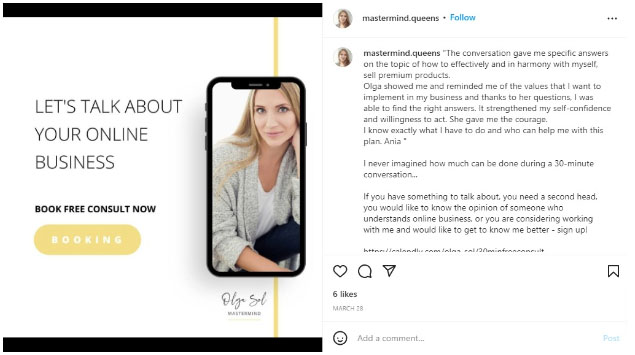 Image source: instagram.com
You can provide additional services or freebies with your customer's first purchase or booked appointments, such as offering work-life balance examples and tips.
Develop a solid strategy for generating, nurturing, and converting social media leads into paying customers.
3. Post clickable content
Sharing captivating photos on Facebook or Instagram won't always be enough to get you leads.
You'll need to post compelling content that effectively entices your audiences to engage with your posts and act on your offers.
Put simply, your content needs to be click-worthy.
One of the best ways to do this is to create clickable posts, including the following.
Facebook shoppable posts. Tag products from your Facebook Page shop or catalog in your FB photos and videos.Facebook users can click on these photos' tags and get directed to your site (if the image comes from the product catalog). If the photo tags are from your shop, users will land on the product details on Facebook.
Instagram shoppable posts and Stories. Add product stickers to your IG Stories images to create and share shoppable posts.Like FB shoppable posts, Instagram users can click the tags or links and be directed to the item's product page and details.

The IG shoppable Story from fashion company Anne Klein is a classic example.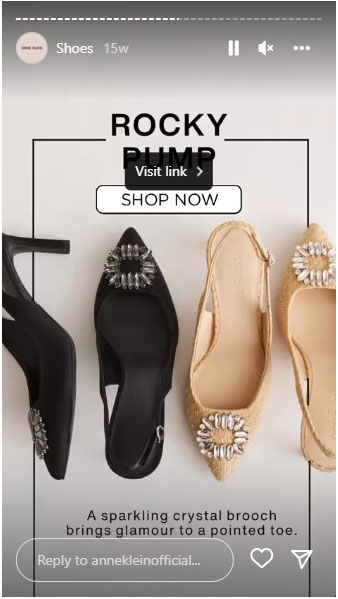 Image source: instagram.com.
Instagram shoppable posts and Stories make it quick and easy for your audiences to shop for your products right from your posts. Convenient customer experiences are always great for lead generation.
Simplify planning, scheduling, and managing your clickable post creation and distribution across social media channels.
Use robust content calendar software to map your content production and publishing for more seamless lead generation.
4. Implement social media lead ads
An effective way to speed up your social media lead generation efforts (or amplify your current lead collection strategies) is to run lead ads.
Some of the social media lead ads you can implement include the following.
YouTube TrueView (for Action ads). YouTube's TrueView ad format allows advertisers and marketers to encourage specific user actions, including generating leads.The TrueView ads include prominent buttons linking to your designated website, and you can set them up to generate leads by choosing Leads as your goal as you create the ad.
LinkedIn Lead Gen Forms. The LinkedIn Lead Gen Forms can pre fill form fields based on the user's profile data. It makes it faster and easier to capture lead information.For example, LinkedIn users interested in buying SEO articles from you can see their email address already pre filled in the form and only add the other necessary details to book a call.
Instagram lead ads. IG lead ads also provide pre fill form options for seamless customer information gathering, fueling your lead generation initiatives.You can create the lead ad and form via the Facebook Ads manager. Choose your ad objectives and set up the information fields for the data you want to collect, including the name, address, and phone number.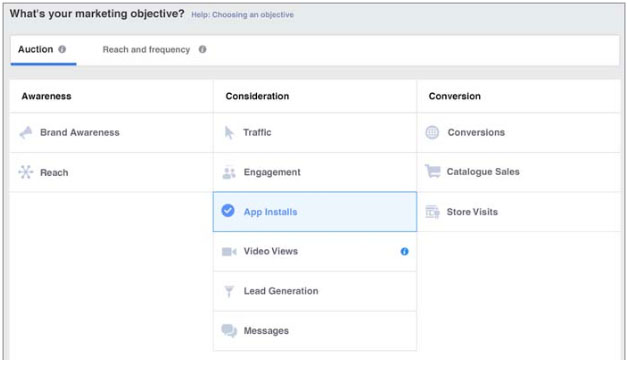 Image source: facebook.com.
Include the social media lead ads in your content tracking strategy to track and measure their performance and effectiveness in generating leads.
Generate more leads from your social media marketing efforts
Optimizing your social media marketing efforts to boost your lead generation initiatives can take time and effort.
While you won't see significant results overnight, you can set your lead generation efforts up for success by following proven social media marketing tips.
Combine what you learn with reliable tools and refine your strategies to boost your lead generation initiatives.