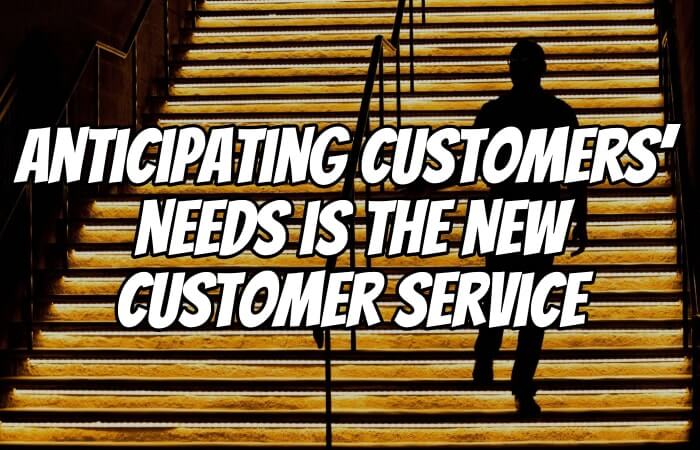 Telegrams first gave way to the telephone which were then made obsolete by smartphones.
Everything around us is evolving and so is customer service.
Most businesses today have three or four channels of communication that allow customers to reach to them via phone, email, live chat, and so on.
But instead of waiting for problems to appear and then go about solving them, why not anticipate customer demands in advance?
Here are a few ways to help your company transform into that way of thinking.
1. Look for problems to solve rather than products to sell
The product you have is relevant as long as the problem exists. When Alexander Graham Bell, the founder of the telephone, approached Western Union the leading telegram company back then they couldn't fathom the use of the device and rejected the offer. A few years later, the telegram wasn't relevant anymore as everyone switched to the telephone. The new technology had made the old irrelevant and obsolete.
Graham didn't wait for customer feedback to arrive at a revolution. He fixed the problem of inconvenience that plagued traditional modes of communication.
And that's something you can do no matter how small or big your business is.
When Carmine Gallo stayed at the five-star rated hotel Grand Del Mer it wasn't the beds and bath that made him pay attention. It was the customer service.
From placing water bottles in their cars for a hot day to arranging toys for his kids to play with to arranging courtesy cars all without being asked to the hotel staff won his heart over.
The staff was trained to look for cues and signals that meant the guest needed something. And through practice, they nailed it.
2. Pay attention and mine the future demand from the next needs of current customers.
When Amazon first began life in a lackluster one-room office, it was an online bookstore that shipped books to one or two customers in the entire nation. As success began to snowball, the bookstore added many more things to their shelves including dog food, fishing supplies, and home products. Recently, the e-commerce giant crossed 1 trillion in market cap and the founder is the richest person in the world.
The mantra is simple. Once you're successful with your existing line of products, you expand to more customers, more product lines. Somewhere during shipping books, Bezos realized his customer base would also love other things being shipped to them.
That's not to mean you alienate your current customers and stop selling whatever it is that got you them in the first place.
Innovate ways to include other products and solutions in the catalog. You might want to hone into what your customers are doing and find a niche where you might serve new customers.
3. Offer interactive options
Know what separates Sephora, a company retailing facial products for women from the rest? They have an interactive makeup assistant that lets customers zero in on one make-up shade. It's virtually applying makeup that's as close to the real deal as one can get.
Sometimes customers want to try on things before purchase. How can you let customers do this?
4. Give customers an easy way to share their ideas
Your customers are your greatest source of inspiration. By listening to them you're holding the key to alleviating their pain points and holding the key to solving problems.
When you create open communication channels you're opening up ways to capture their thoughts.
Take to forums where your customers hang out and read their comments on blog posts.
Talk to front-facing customer support agents (particularly those in your call center) and dive into excerpts from phone and chat conversations.
By capturing the customer's voice you'll be able to offer better services and offer a new range of products that are better suited to rising demands.
Here's an example.
Sainsbury changed the name of its popular bread called the Tiger bread to Giraffe bread.
Why?
A three-year-old girl Lily Robinson wrote to the company saying that their Tiger bread looked more like a giraffe.
She said, "Why is tiger bread called tiger bread? It should be called giraffe bread. Love from Lily Robinson age 3 and 1/2".
Instead of dumping the letter in the trash, the company responded by calling it a brilliant idea.
The letter was posted to the girl's mothers' blog and later went on to become viral hit over social media.
The customer service agent wrote back, "I think renaming tiger bread giraffe bread is a brilliant idea – it looks much more like the blotches on a giraffe than the stripes on a tiger, doesn't it?"
Along with the letter, little Lily got £3 gift card as well.
It need not always be about incorporating feedback. A kind well-thought response too can do wonders.
An aged British woman thought that every time she searched on Google, someone at Google HQ responded to her request in the form of search engine results.
To that end, she used please and thank you with each of her queries. She felt that being mannered would result in quicker results.
Her grand-daughter posted this online as a tweet which got retweeted over 11000 times.
This was Google UK's response, "Ben's Nan" saying: "In a world of billions of searches, yours made us smile. "Oh, and it's 1998," it added. "Thank YOU".
By showing your human side you're winning hearts and creating loyal customers for life.
Conclusion
What do you think of this new strategy of anticipating your customer's needs rather than waiting for problems to crop up? Let us know in the comments below.
About the Author:
George started ThinkingNE to share the latest and best in marketing and Conversion rate optimization. Most of his time is spent helping clients better their conversions.